Jade had me do Headshots with Personality for her Broomfield meal delivery business, Jade's Kitchen. Today we'll hear about her, and her business. (BTW, I love her tagline: Delicious Food Made With Love.)   Next time,  I'll share with you a bit about my process for working with business owners to create a "full marketing photo library" or "image bank" as they are sometimes called: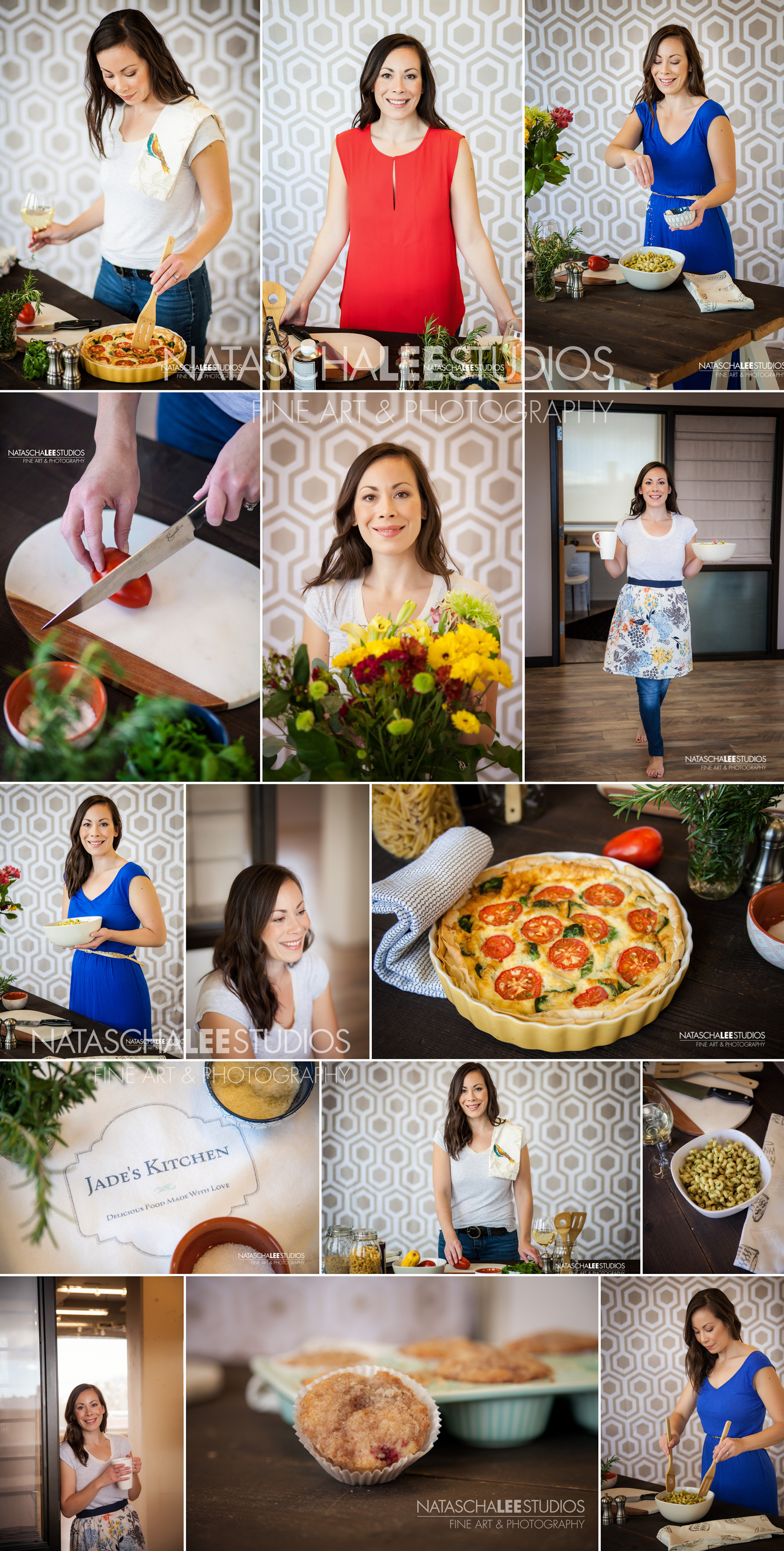 Broomfield Headshots for Business Owners
1) Jade, tell us a little about yourself, your family, where you live, what you like to do.
I grew up in Seattle, WA and moved to Broomfield, Colorado in 2008 with my husband and two girls. Broomfield has been a wonderful place to raise our children – we have a great sense of community and there are so many resources for families. Recently my family and I have enjoyed exploring the beautiful hiking areas nearby. For a weekend getaway we enjoy road trips around Colorado, capturing the beauty this state has to offer.
2) What is your business name & what do you do? How did you come up with that name? 
My business name is Jade's Kitchen. It's a dinner delivery service that specializes in all natural, organic meals that are already prepared and ready to be reheated. The name came from the idea that my food feels as if it's cooked out of my own kitchen – a place where my family and friends come together for good food, and always a lot of laughter! Jade's Kitchen – Delicious Food Made with Love.
3) What made you want to go into this business?
The timing was perfect. My girls were both in school full-time, and I was ready to go back to work. My wish list was somewhat unreasonable, though, as I wanted a schedule that allowed me to be available for my kids. With some nudging and encouragement from my family, I decided to start a dinner service because of my love for food and cooking, focusing on what I felt to be important – organic, healthy and, of course, delicious!
4) What is your inspiration for your food? Where do you get your best ideas?
My inspiration for my food comes from the desire to eat well – high quality ingredients that are organic, and non-GMO. It goes beyond the flavor, and into the realm of foods that are made with ingredients that don't have lasting negative effects. I wanted to create dishes that we all love, but made with ingredients we can trust. I consider my style of cooking organic comfort food – food that the whole family will enjoy!
5) What should someone do if they want to order (pricing range, go to your website, how far in advance, when you deliver)?
Ordering meals is so simple – just order from my website. At checkout you can decide your delivery time slot. My website is: http://www.jadeskitchen.net/

A new menu is posted on my website on Friday, and you have until the following Wednesday to place your order (for a Monday delivery). Subscribing to my website is the best way to stay informed on my weekly menu, as upcoming events or promotions.

Typical pricing ranges anywhere between $30-$40 per meal for a family of four, and you also have the option to order for two. You can include side dishes as well (broccoli, mixed greens, etc.) I deliver all my meals in a reusable bag, and my meals come in glass bakeware that can be reheated in the oven. All bags and glassware are returned to me (usually swapped during the next order).

I currently deliver to my surrounding area – Broomfield, and Westminster for a small delivery fee. Depending on the distance, I am open to other areas.
6) How have changed your approach as your business has grown and matured?
I am always trying to figure out ways to be efficient without taking away from the heart of my business – ingredients you can trust, and, or course, delicious food made with love. As my business has grown I have learned the importance of streamlining. I have been using the company, Door to Door Organics, to deliver my fresh ingredients used for cooking. They are a local company based in Lafayette. It's great because they source their produce locally, it's all organic, and it's delivered to me, cutting out another trip to the store.
7) What's the craziest or funnest experience you have had, running this business?
Learning to cook in a commercial kitchen where everything is bigger and better has been at times comical, intimidating, and definitely a learning process! The knives are so sharp that I feel as if I'm an onion-chopping pro… until I need to check myself before I lose a finger…

My favorite experience of running this business, though, is the continued support of my clients. Along the way, as I am learning to navigate this business, I have often wondered what in the world am I doing? But I feel a sense of support and loyalty, and I am so in awe and grateful for that.
8) What are your "secret weapons" or "helpers" for balancing motherhood of young children with running a business?
I am very fortunate that I have some flexibility in my work, but more importantly, a very supportive husband who is happy to take over when I'm gone (and when I'm home too!).

Finding the right balance is always a tricky thing. What I've learned so far is that regardless of how much or how little I work, I will never accomplish everything I feel I need to accomplish. I believe in simplifying as much as possible. I tackle one thing a day. I grocery shop online if possible (my secret weapon!), and I'm also happy to give my girls, ages 10 and 7 (almost 8!), jobs around the house.

Most importantly, I take pride in what I do. I believe it's important for my daughters to see me in a different way. I am their mother, but I also go to work. I want them to understand and witness that you can be a mom, and you can have a career. I can run a household, but I can also run a business.
9) You use fresh, organic food – tell us a bit about that?
I use fresh, organic food because I believe it's best for our body. The fruits and veggies are not grown with pesticides. The meats my family and I consume are not pumped with antibiotics, or hormones. It feels very unnatural to consume food that contains pesticides, hormones, and antibiotics, especially for young developing children, so I am very aware and conscientious of what I feed my family.
10) Who is your typical customer? What do they have in common (like: busy mothers, or people looking to save time but eat healthy)
My typical customer is a busy mom, because as we both know moms are busy! I think my service in general is very convenient. My philosophy of preparing meals with organic ingredients baked in glass bakeware, and delivered to your front door in a reusable bag makes it even more justifiable, not to mention not having to think about preparing dinner for your family during the most chaotic time of day! I believe that is the commonality of all my clients.
I order food from Jade and our family loves it! Go to http://www.jadeskitchen.net/ to place your order.
BTW, Jade also hired me to do her family portraits – click here to see the images she selected as her very favorites, and to see what she said about the portrait process.