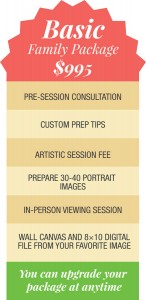 Welcome! I'm guessing you have checked out the galleries, so you know my photography style.
And that you've read some of  my client testimonials, so you know how much fun we'll have!
Quick summary: Family Portraits start at $995, but most portrait clients plan to spend from $1,500 – $3,500 on their custom photography experience including the session fee, prints, products, and/or digital images.
I would love to schedule a custom photography session with you! Please keep in mind that I usually book about 6-8 weeks out. Use this hand-dandy link to contact me or give me a call at (303) 525-8687.