Today I'm sharing some of my favorite photos from a Family Photo Session with Dogs last Fall – and this one included two adorable Shelties! As you'll hear from Isabelle below, we have a tendency to procrastinate family photos. We really want them, but we keep pushing it back. Family photos are so precious. And, if you pick the right photographer, they will bring you so much joy! So, there is every reason to "just do it" now.
She also touches on one of the things many people are worried about – avoiding "fake smiles." And, that's one of my passions – to capture your family's true emotions. That means real smiles! And, sessions with me are so FUN, natural and free-flowing, that we are sure to get some happy authentic images. You can click here to read what other families say about that.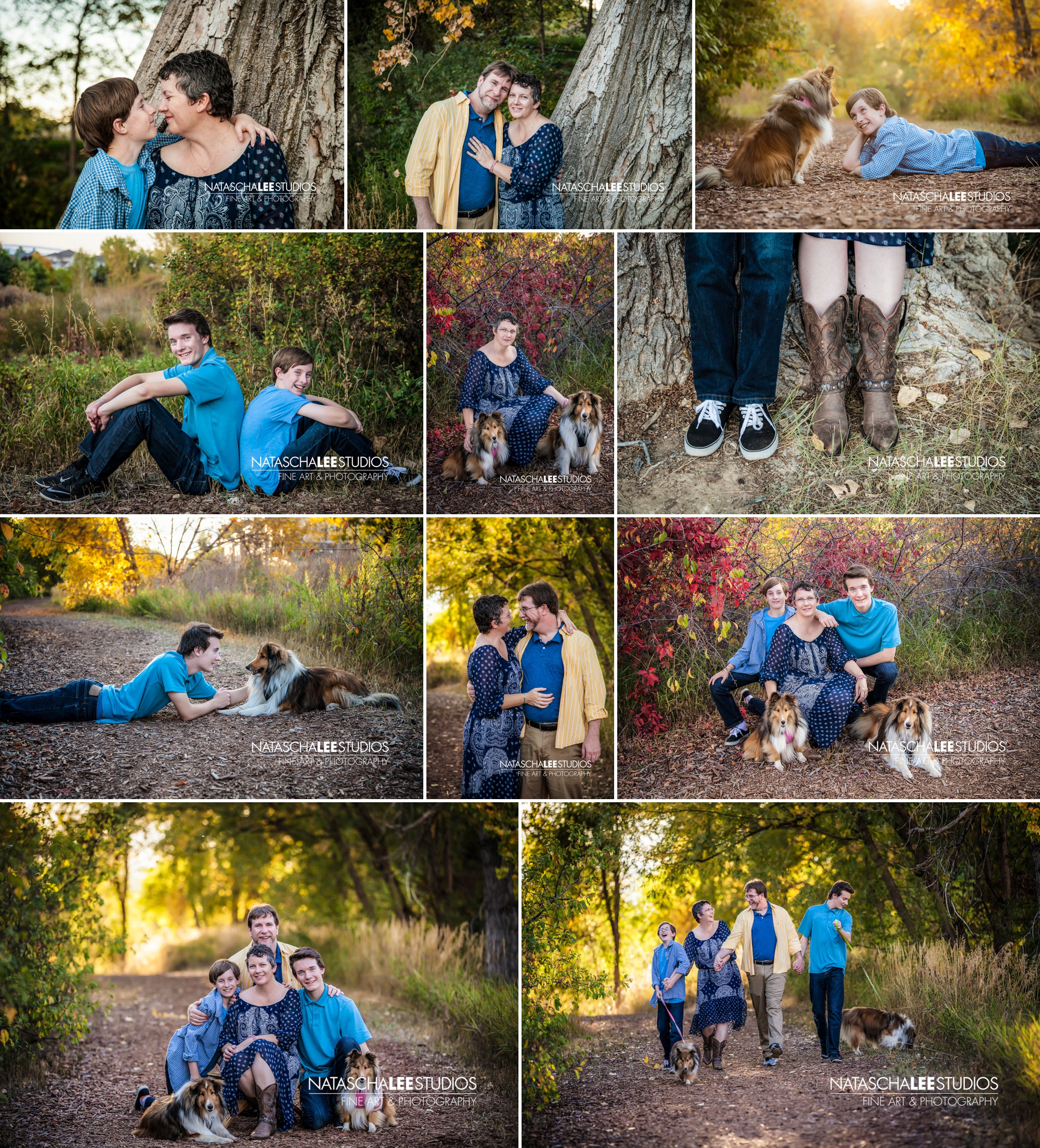 Family Photo Session with Dogs
Isabelle, tell us a little bit about your and your family:
I work in elder care. In my free time love learning new things. Right now I'm learning hand lettering. I paper craft and make handmade greeting cards. The whole family enjoys role playing and table top games as well as video games.

For quite a while now we have been working toward a vacation in New Zealand.
What made you decide this was the time to do a photo session? Were you marking any special occasion, etc?
I have always wanted professional family photographs. We tend to procrastinate and the kids are growing so fast! It was time to just go ahead and do it.
Tell us about your dogs, who were included in the session:
Fuzzy Dice and Freya are two year old Sheltie siblings. Freya is the little one. She is very reserved and behaves much like a cat. Dice is a playful dog who loves belly rubs.
 Was there anything you were nervous or worried about before the session?
It's tough to get a genuine smile from the boys during planned photos. I thought we would have only a handful of good finished shots because of that. Natascha did an amazing job and gave us plenty of great finished shots to choose from.
What made you choose Natascha Lee Studios?
I searched the web for professional photographers near me and I was immediately drawn to the images on Natascha website. The locations she uses and her style were exactly what I was looking for.
How did the actual photo session go? What was your favorite part of your session? Any funny stories?
Our session was great. Natascha had a clear plan and was flexible at the same time.  I loved how we moved from one location to the next, stopping to take advantage of a great interaction, light or place.
How about the viewing session? – What did you think or feel when you saw your gallery of images?
The viewing session was just awesome. Natascha made a video of our images that blew me away. My husband Fred was with me and I think the results surpassed his expectations as well.
What do you hope your children will say/feel/think years down the road when looking at these images?
I hope the boys feel the sense of connection we all have toward one another. I want them to feel the gratitude and delight I have when I see the images now.
Any advice to other families before their photo sessions?
Trust in Natascha's skill and talent.
How did you feel/what did you think when received your final order/had your products delivered?
Receiving the order was awesome. I loved unwrapping each piece, framing and hanging them. I have a special photo of my teenage son that will go in the slideshow the school does of senior photos.

Some of the photos were meant for Christmas cards and gifts, but my husband posted them on FaceBook. So I already know that everyone loves them!

Thank you, Natascha!