3 Tips for Making the Most of Your Own Family Photos
---
Don't loose your memories!
The New Year is a great time to make sure all your digital images are backed up – either to the cloud from your phone, and/or to a backup service from your computer.  Your photos should always be backed up in at least one place, preferably two. You can use the autoback up feature on your phone (b/c chances are, most of your photos are there – right?), as well as an auto back up for your computer like Carbonite or Backblaze, or even Dropbox.
The power of touch:
Speaking of your digital images, how often do you print them out? January is a great time to review your photos from the last year, and print them out. Some people do books, and others make framed prints. Even if you don't often print your images, at least print a few for your kids. They LOVE having physical prints of their family, parents, friends, pets, themselves. Print out a few small sizes and let your kiddos use them as bookmarks.
Gear up – Top 6 things to look for in your pocket camera.

I love my iphone for convenience, but a good pocket camera will take much better photos than your camera phone. Esp in low light situations like indoor, early morning, and dusk. (One exception – the new
iPhone 7 Plus
really does take decent everyday snapshots.)
If you don't have that specific iPhone,  I suggest a pocket camera like a
Canon Powershot
. Rather than recommend my favorite model (which changes frequently), that link will take you to a search function on Amazon.
You want a camera that:

1) has at least four stars from reviews AND has at least 250 reviews,

2) is available Prime (which means it's fairly current) – even if you aren't a Prime member, you can use that as a selection criteria

3) does video in 1080p,

4) has "image stabilization" for taking non-blurry photos in low light withOUT a flash. A flash (usually) just ruins the mood when you are taking low light photos,

5) has "wireless technology" to connect to your phone, so you can send/share/post the images right away, with just a few extra touches,

6) is between $200 and $400. This puts you in the sweet spot for decent quality, but not so expensive that you are a sad panda if/when it breaks or gets lost….and pocket cameras, if they are used frequently, do eventually get broken or lost.

7) optional: is a fun color! Although honestly, it seems the really good quality ones only come out in black, silver and white.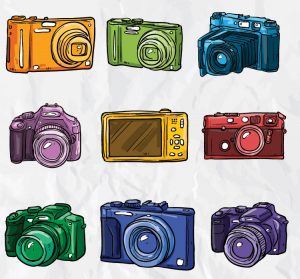 Watercolor Cameras Image credit: FreePik