I'm thrilled to introduce you to our Denver child model of the month, Presley. I have done her Child Model Headshots twice, and I've also done her father's Headshots with Personality(sm)  for his business – he's an entrepreneur. Presley's mother has the very best style! Plus, as fellow tech geeks, we have a "May the Fourth" tradition.
I love how Presley's aunt comes to the shoots, and the viewing sessions, etc. One of my favorite BTS images ever, which came from this shoot,  is here. A very close knit family! And I can't wait to do their family portraits later this year! 😉
Tell us about you, mom:
My name is Seonah, born in South Korea,  lived in New York for 25 years but now living in and loving Coloardo.
When I'm by myself, I enjoy creating/crafting things. I love working on scrapbooks for Presley, or working in my green house. I don't have the best "green thumb", but there's a lot of satisfaction watching something you planted bear fruit.
As a family, we love taking road trips together. The longest trip we took was to Chicago, 14 plus hours in the car, we had a lot of quality time without TV or Internet. Presley is a little thrill seeker, so for the summer we bought season passes to Elitch Gardens. She's just tall enough to ride all the kiddie ride!
Tell us about your child model:
Presley will be  turning 3 in July. She loves to read, one of her favorite is "Go, Dog. Go!" by Dr. Seuss. She reads it cover to cover a few times before bed. She's very into the original Star Wars Trilogy. She asked to have a Star Wars theme birthday party this year, and requested the presence of Hans Solo and Chewbacca. However, she also loves Disney princesses like Elsa, Mulan and Ariel. She loves playing with clay, and creating meals for everyone. She's extremely active, and loves to run, play sports and dance.
3. What is something about your child that surprises people?
People are surprised to find out how "tomboyish" Presley can be. She loves to be tossed up in the air and free fall down. Jumps off of everything and see if she can fly like a super hero. She's also very independent. She seems to enjoy her "alone" time, sitting on the couch with a book, while "The Big Bang Theory" is playing in the background.
4. What made you/your child interesting in modeling?  What sort of experience have you had so far?
I thought it would be a fun experience for Presley. She's such a little ham, and loves to put on a show for fun. She booked her first magazine shoot in March, and it was an amazing time. I don't think she fully grasps the idea of being a "model" and taking pictures of the clothes. I just told her she was going on a play date, and she had a blast.
5. This is your second time working with Natascha Lee Studios for your modeling headshots…why did you pick her for your Denver Child Model Headshots?
The first time I searched for a photographer, I  Googled online and used key words like "Child" "Model" "Headshots", and Natascha's name constantly came up first. After researching Natascha, I learned that she was a main photographer for a reputable children's modeling agency. I was a complete newbie to professional photos and modeling agencies, so I wanted to go with a photographer that had knowledge about both worlds. The first time I spoke with Natascha, I knew she was the right photographer for us. She was so friendly, welcoming and informative. I didn't feel intimidated, and she put me at ease. Presley was 1.5 years old the first time Natascha took her pictures, and the final results left me speechless. She captured all the beautiful smiles, big laughs and serene looks. Wowever she was also able to capture Presley's spirit, and true essence. I went with Natascha for the second time, because she did such wonderful job the first time, I knew she would do the same again.
6. Was there anything you were nervous or worried about before the session?
For parents with toddlers, you know your child's mood can change on a whim. Presley for the most part is a well behaved, go with the flow kind of girl, however a week prior to the shoot, it's as if she learned the meaning of a tantrum. I was worried she would not be into taking pictures that day. To my relief, not only did she want to take pictures, she was excited for it. I think that had a lot to do with Natascha's fun vibe.
7. How did the actual photo session go? What was your favorite part of your session?
The session was fun and exciting.  My favorite part was re-enacting a shot from her previous session. The photo Natascha captured was perfect. It showed how my little girl has changed so much in a year. One of my favorite shots. Literally gave me chills when I saw it.
8. Any advice to other models before their photo sessions?
The morning of the photo session, we were running a little late so I asked my husband to feed Presley breakfast as I got ready. My husband gave her sugary cereal and sugary yogurt. I would've opted for some eggs and toast. By the time we got to the studio, Presley was already bouncing off the walls. She was so full of energy, it was hard to keep her still. My advise would be to eat a healthy, balanced breakfast so you have a good amount of energy in your system, without jittery sugar blasts. 🙂
9. How did you feel/what did you think when received your images?
Delighted and fortunate. I was so grateful that Natascha captured Presley perfectly. I also felt fortunate to have these pictures to look back on when she's all grown up.
10. And the most fun question of all – If you could have any superpower, which one would it be and why?
My super power would be to help people see the brighter side of things, or reveal their compassionate side. ie: When individuals are riled up, and about to get into a fight, or just filled with anger. I would help them see their softer, compassionate, loving side, and they'll see how "ugly" they're being towards themselves and others. Once we're able to see kindness within ourselves, it's when we're able to share it with others.
I would call this "Hippie power".
You can check out Presley's full modeling portfolio at:       http://profiles.wilhelminadenver.com/model/2979/presley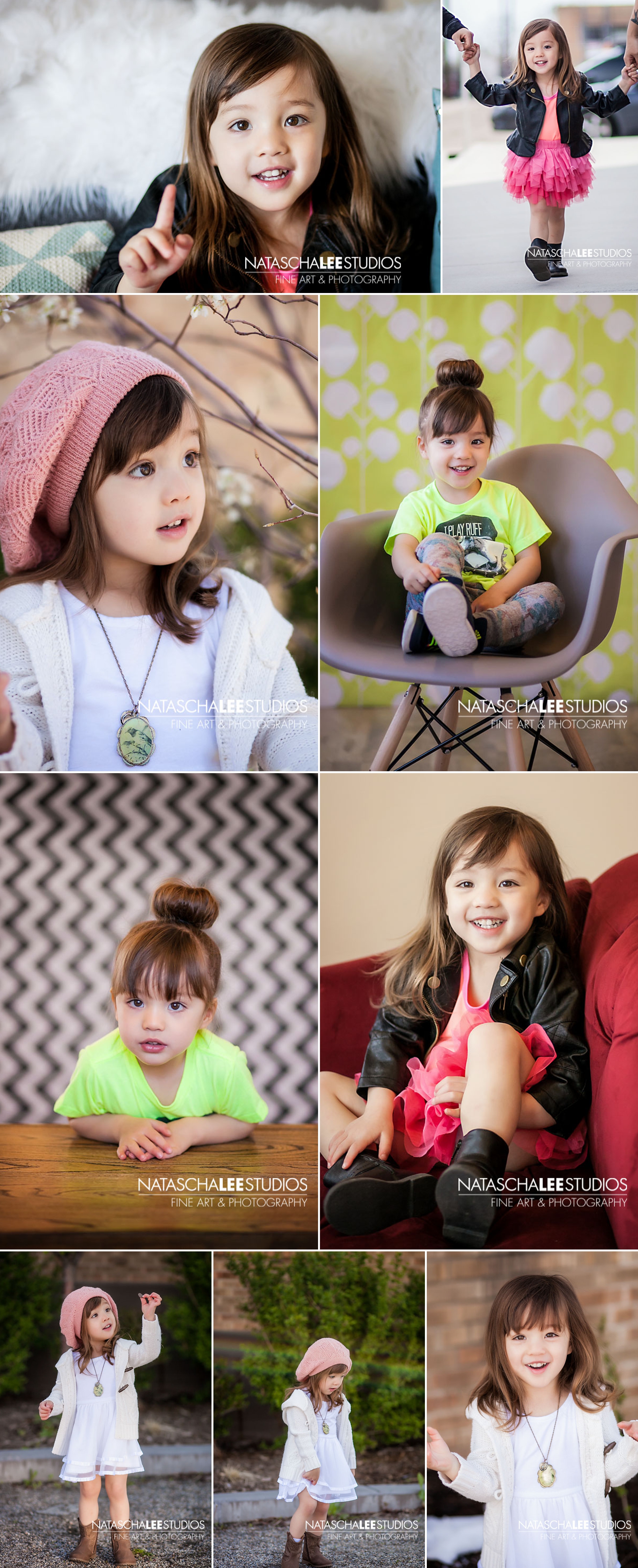 Denver Child Model Headshots