Today I'm sharing a recent Denver / Broomfield Kid's Portrait session with the cutest little 3 year old girl (her family lives in Broomfield, but we did the photos @ my Denver studio).
We'll that's what the blog posting started out as -just to share some really adorable portraits I did of an adorable 3 year old girl. Then, as I started finding links to other photos I took of this family, I realized how honored I am to be able to craft fine family portraits for them again and again, as their children grow. The last part of that last sentence is hard to write because their middle child, Miss M,  got her fairy wings exactly 2 years ago.
The sadness I feel as I write that fact is held in my heart at the same time as this fact:  I'm also so grateful I was able to provide things like this stunning family portrait session while she was still with us and very much her: joyful, dancing, full of life and vitality (even though her body was already fighting).
I can't put into words how honored I am to provide heirloom portraits for all my families. This is even more true when one of the family members is no longer with us on earth.
---
Let's chat about sweet Miss B – I was so excited to photograph her again!  Her Grandma started this great tradition with Miss B's mom where the kids are photographed at the age of 3 in similar traditional backgrounds/old fashioned clothes/poses. Here is Miss B's photo, which will proudly hang on the wall along with those of Mom, Auntie, Big Sister Miss M, and Big Brother.
Look at that impish little smile! And her sparkling eyes!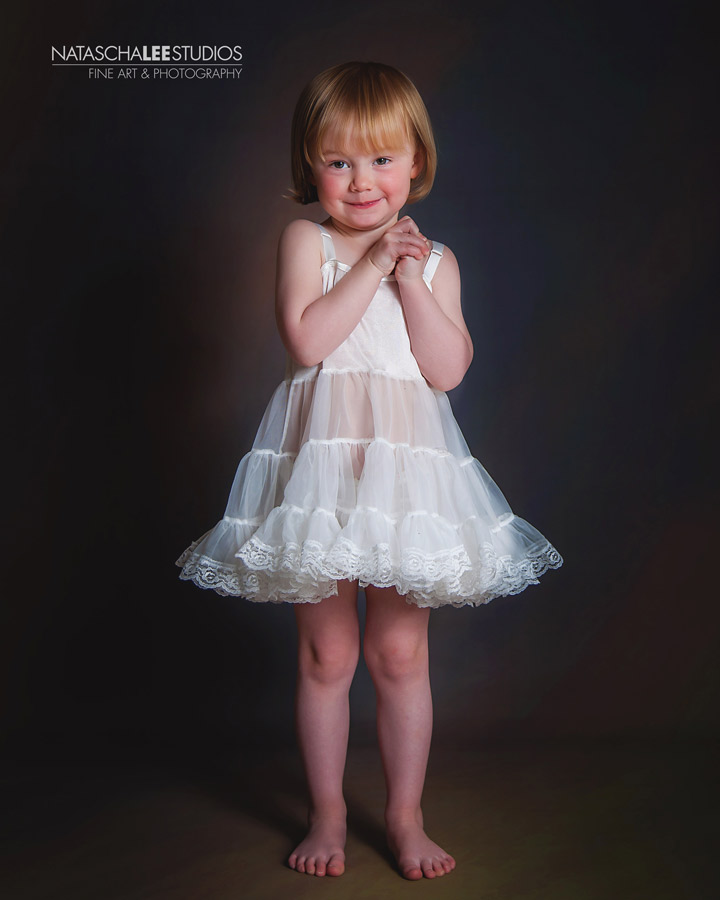 And here is a BTS (behind the scenes) image from the shoot. See all that yummy natural light in my Denver studio? When doing the type of image I did above, I have to make that beautiful light a "non-issue" so that all the light falling on the image is controlled and from OCF (off camera flash.) So I used both flash and an LED light panel. Anyway, as much as I LOVE photographing with natural light, it's always fun to mix it up and do something different.
Here's a little backstory for you: in order to get her to stand in the correct spot, I put a little tape on the ground and asked her to stand on top of it, to cover it with her feet. She was great at this.
And then, after we did the "traditionally lit" work, we moved on to a completely different set up – contemporary expressive with natural light. (Natural light portraits are my specialty.)  And since they would already be there @ the studio, why not do a second type of portraits, too? If time allows, I will often suggest we "mix it up" with a change of location, outfits….or even just accessories! Here is my favorite from that second part of the shoot. Her Mamma has serious style, and she brought just the cutest clothes. Little Miss B personifies "cute as a button."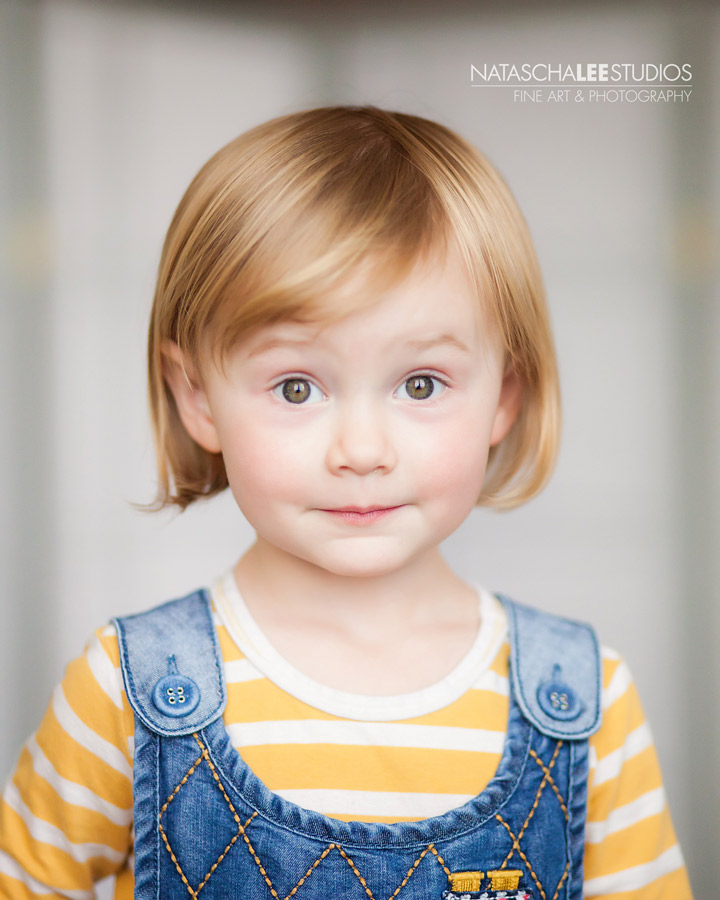 Denver and Broomfield Children's and Family Photographer