I've been lucky enough to do modeling portfolio and headshots for many local Denver child and teen models. Today I'm thrilled to introduce our male model of the month, Ronan.
Ronan is super laid back, and (like many teen models) looks and acts much older than 13. He's got a great sense of humor and as he mentions below, he had a hard time keeping a straight face during our portfolio session.
First let's hear from Ronan's mom, Lamia, who has a fascinating background!
Tell us about yourself and your family:
I was born in Wales, raised in Morocco, went to college and graduate school in Vermont, stayed in the US and lived in Louisiana 15 years before moving to Colorado in July 2013. I am a project manager for a start-up food manufacturing company and work is keeping me very busy. I don't have much time to myself but if I did I'd want to do absolutely nothing! 🙂 As a family though, Ronan and I like to go skiing (for me) and snowboarding (for him) in the winter, or just being outdoors when it's warm.
Now, let's hear from Ronan in his own words:
My name is Ronan, I'm 13 years old. I'm an avid reader, enjoy going to the movies, but most of all I love playing football and basketball. The first thing that came to mind when asked about what would I dream of doing, is to drive a Lamborghini one day!
What is something about you that surprises people about you?
People are always surprised when I tell them my age because I'm so tall for my age. I am now 6′ tall 160lbs and still 13! My friends would say "he's huge!"
What made you interesting in modeling?
I had never thought about it until a few friends of my parents kept saying I should try out modeling. I've had a few opportunities to audition for TV commercials but the timing conflicted with school vacation or I had a game.
Why did you pick Natascha Lee Studios for your modeling headshots?
Our modeling agency Wilhelmina highly recommended Natascha Lee Studios.
Was there anything you were nervous or worried about before the session?
I was definitely nervous because I had never done anything like this before. I was also very nervous because I thought I'd be the only boy, but when I showed up there was another guy.
How did the actual photo session go?
The photo shoot was so much fun, and Natascha made it very easy. My favorite part was trying to keep a straight face, it's so hard to do but so funny!
Any advice to other models before their photo sessions?
It's really not as serious as you think it may be. It's a fun experience.
How did you feel/what did you think when received your images?
I was impressed when I received the pictures because I didn't think I could look so cool LOL
If you could have any superpower, which one would it be and why?
Invincibility because I could do anything
Contact Ronan via his agency Wilhelmina.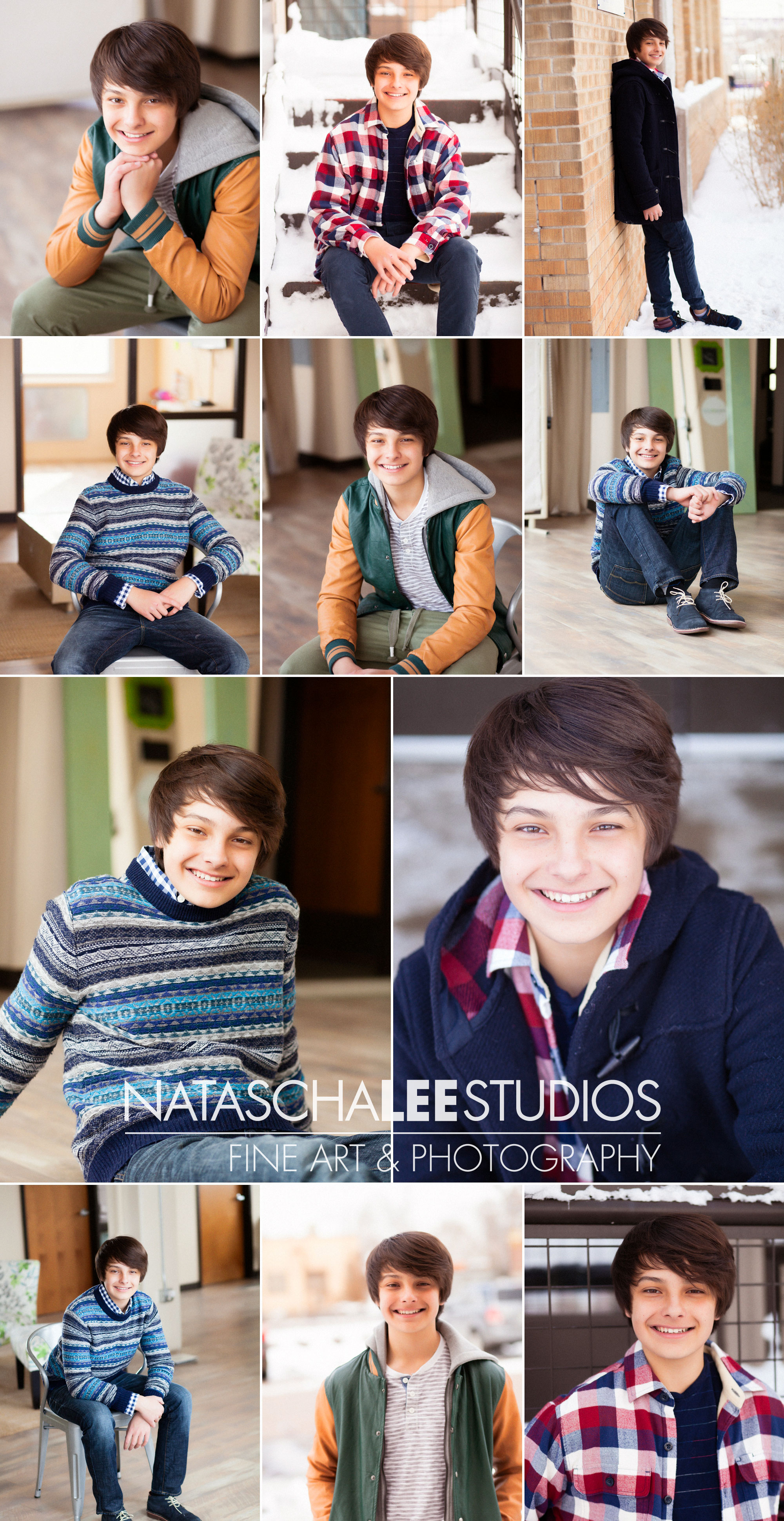 Denver Modeling Headshots and Portfolios for Denver Teen Male Models