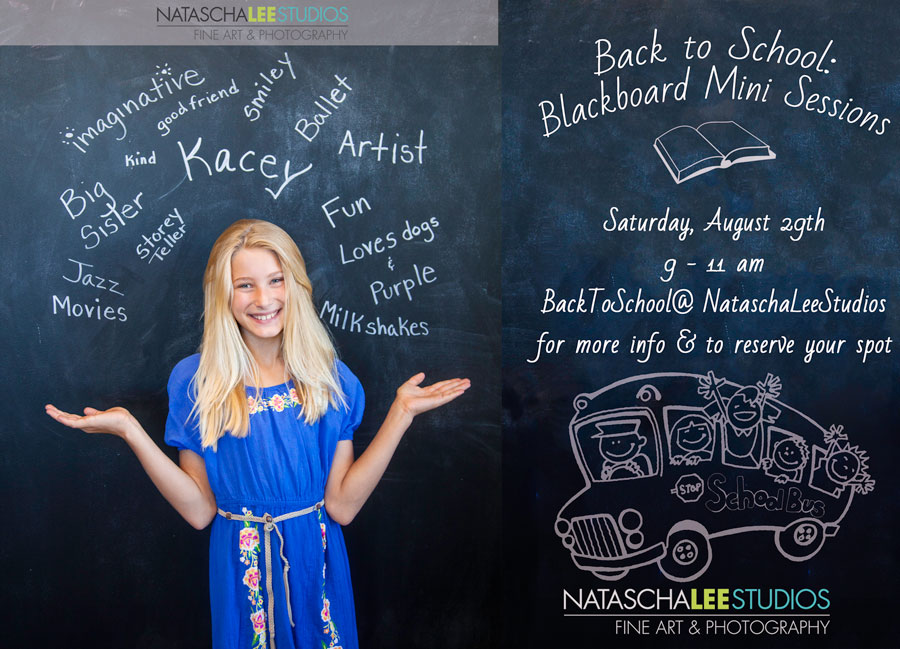 I'm so excited to announce my 2015 Back to School Blackboard Mini Sessions.
Saturday, Aug 29th, 9 am – 11 am, only 10 slots available
Bring your kiddo (ages 3 – 18 – sorry, this one is just for the kiddos ) with their favorite new school outfit.  Or any outfit they love.  They can even bring a favorite stuffed toy, sports equipment, etc.
Personalize the experience and your child's photo by writing a few key things about your kiddo as they are now!  (Remember my last blog post where I talked about how children love to personalize the photos with something that is special and meaningful to them? Well, that's what these sessions are about!  That list on the left, above Kacey, are all the things that are important to her, or things that describe her as she is now…..You get to come up with the word list along with your child. Or, we can just use a plain blackboard background and have them hold their favorite toy/sports equipment/etc.)
End up with a WOW portrait of your child to cherish forever, capturing what they are like today, at the start of the 2015-2016 school year.
2 packages available:
Package One: 4 poses to select from,  1 digital file printable up to 8 x 10 and a 5 x 7 print of your favorite pose
Package Two – Everything in package 1, plus a second indoor shooting location, and a digital file printable to 8 x 10 plus an 8 x 10  print of your two favorite poses
BTW, as a special appreciation gift to my clients, If I have done a regular family session for you in the last 12 months, package One is FREE for you!